We provide a comprehensive range of dog grooming services including -
Bathing
Baths can be scary for dogs but with knowledge and preparation we can make washing your dog a good experience.
We use Hydrosurge bath pro 5.1 bathing system, providing a relaxing bath and body massage.
This system which has an exclusive inject air technology that fuses water, shampoo and air to penetrate the coat for thorough cleansing, bringing oxygen to the skin leaving the dog cleaner and healthier than ever.
A great bath is the foundation for a fabulous groom.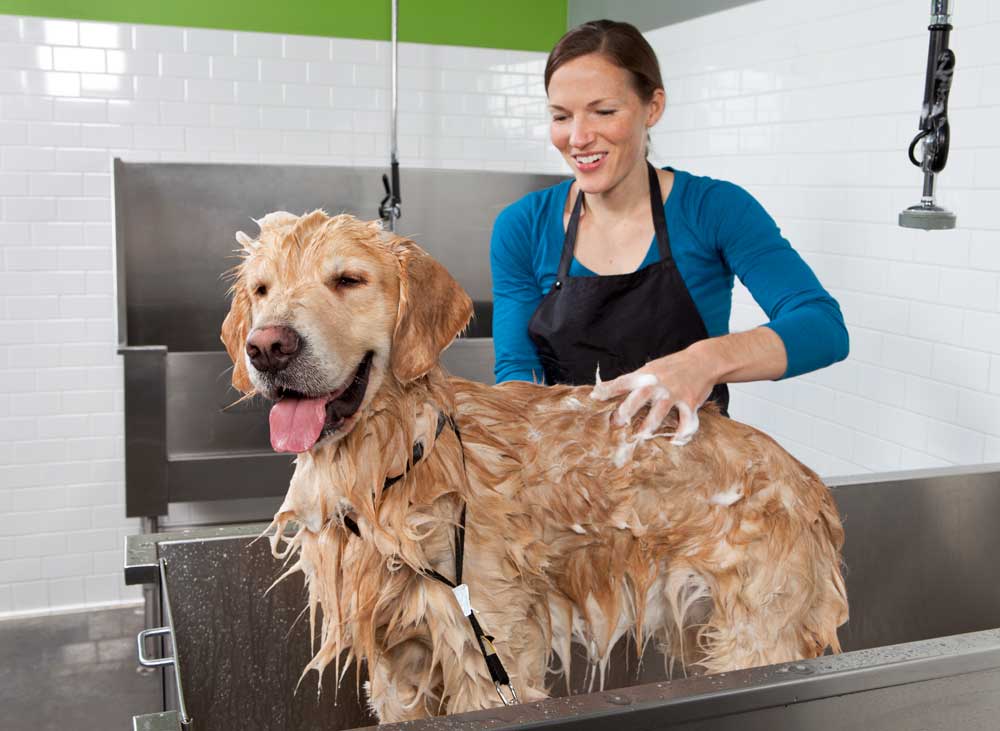 Drying/Brushing/De-matting
Your dog will be carefully salon dried using fine brushes that suit coat type and type of dog. Much undercoat is removed at this stage which reduces future matting and moulting. A matted coat can cause pain because the mats pull on your dog's hair and make it uncomfortable for him to lie in certain positions. In addition area under the matt is susceptible to sore spots and infection It is important for your dogs happiness and overall health to keep him matt free.
We can offer to de-matt your dog. This can avoid the total removal of the full coat allowing the groomer to shape and style the dog., however this will depend on the severity of the matting and we cannot offer this for neglected severely matted dog as it causes unnecessary discomfort and is in contravention of the animal welfare bill.
We alternatively offer a shave down service which provides a pain free method of removing matted hair.
We would always seek your consent before undertaking this procedure.
Deshedding
Indoor dogs tend to shed year round. Each hair goes through a hair cycle just like human hair which usually takes 4 -6 weeks to complete depending on breed and species.
The undercoat is the underling problem of shedding and is the majority of hair that you see in your house. Undercoat that has shed from your pets skin can get trapped under the topcoat and can cause mats or tangles to form.
We can dramatically reduce shedding by up to 90% using a FurMinator. The FURminator will remove coat that has shed from the pets skin.
Clipping & Scissoring
Clipping removes excess hair from certain areas of a dogs coat allowing you to style the dog.
We offer advice on cuts and styling for that particular breed or type taking into account the activities of the dog the overall appearance and comfort of the dog. The condition of the dogs and its coat and the dog's physical shape. Taking into account how much maintenance the owner has time to carry out their self. The clipping is then carried out to the preference of the owner.
The scissoring technique allows the groomer to style and shape the coat giving a specialist finish.
Recommended around every six to eight weeks.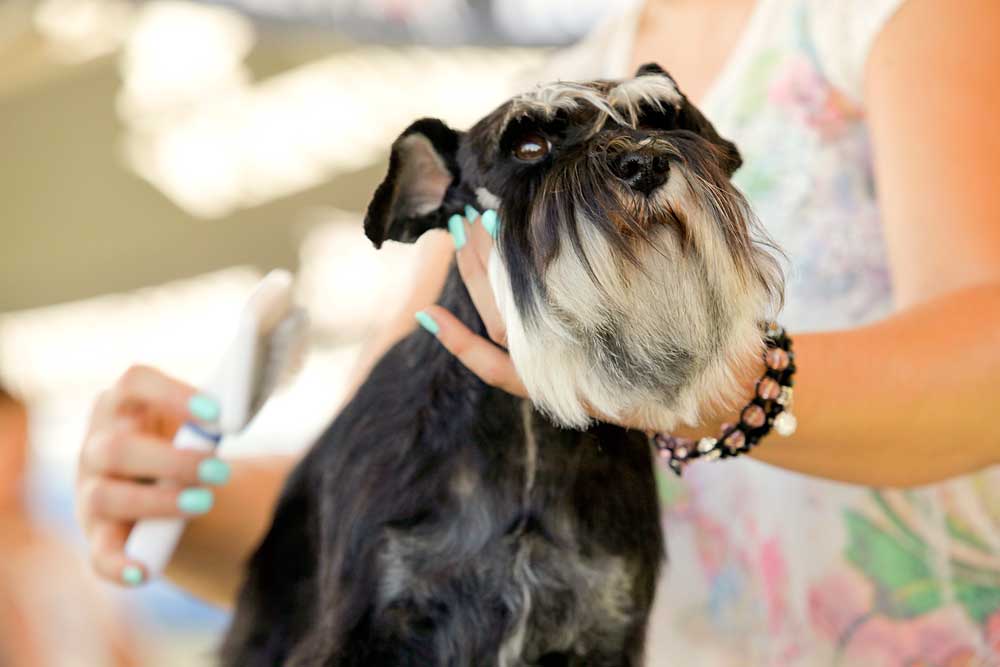 Hand Stripping
Some breeds require hand stripping which is the art of removing dead hair by hand requiring a level of expertise
Dogs that have a wiry coat usually need hand stripping which removes dead dull looking hair from the dogs top coat so that dense undercoat is revealed and groom is left so that the new top coat can grow in. It retains the correct coat texture and the coat colour remains stronger and brighter.
Properly performed hand stripping is not painful to the dog and can improve skin condition. It clears the hair follicles of swat and hair secretions and promotes healthier skin.
Hand stripped dogs retain the correct coat texture making the coat easier to keep and coat colour remains stronger and brighter.
Nail Clipping & Ear Cleaning
This is offered as a standalone service. However is complementary with all baths, blow-dry, styling packages.
Prices
Our prices are determined by size and guided by breed, hair type and level of work that is required on each individual dog.
Puppies - prices start at £18 but will vary depending on size of puppy, coat condition and styling required. Bathing - baths are from £8 depending on the size of dog. Deshedding - £8 extra. Hand Strip - start at £35 depending on breed of dog. Full groom - £36 + depend on size/breed all grooms include bath, nails ears plucked/cleaned.
Contact Us
Please call for appointments and bookings.
0141 776 0611